Compassion is Passion with a Heart:
Homeless Clinics See Record Breaking Numbers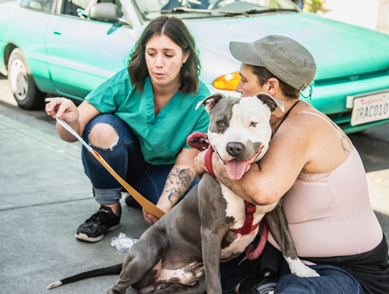 For the past three years, CWOB has hosted free clinics for the animals belonging to the homeless population of Guerneville, CA; a region that has a homeless population over three times the national average.
We typically help an average of 35 animals at each clinic, providing free veterinary wellness care – vaccinations, deworming, flea control, and treatment for skin, eye, an ear infections. We also sign the animals up for free spay and neuter.
Our last clinic was our most well attended to date. We saw 54 animals and were impressed by the dedication of each of the clients, who often had to wait over 3 hours for their animals to be seen.
These clinics are vitally important not only to the health and wellbeing of the animals we serve, but also to their owners who truly love their pets, will do anything for them, and are so very grateful to have access to the care they need.