Scroll down to see photos and descriptions of each of the dogs.
On June 16th Compassion Without Borders received 10 dogs rescued from the slaughterhouses of China.
The dogs, flown to San Francisco by animal welfare activist and CWOB supporter Odessa Gunn, were rescued by the Animal Hope and Wellness Foundation.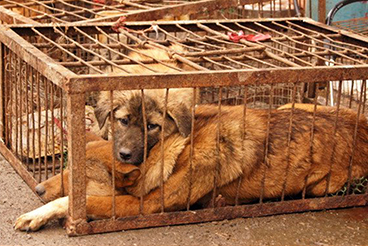 Gunn, who made the trip to raise awareness about the atrocities of the China dog meat market industry and the horrific annual Yulin meat festival, says " The thing I found most shocking on my trip to China was the fact that millions and millions of dogs are intentionally tortured and slaughtered for their meat all year long in Asia. I thought it was mainly at the Yulin festival but it's happening all year long at markets in plain sight for everyone to see. I'm focusing on the precious ones we have saved and will continue to save so that I don't get discouraged. I hope for a more compassionate future but for right now I just want to do all I can do to mitigate the suffering. If that means flying to China a few times a year and spreading awareness then that's what I'll do!"
Dogs arrived to Muttopiafrightened and weary after their long trip.  They are currently undergoing veterinary care, along with lots of TLC, as they adjust to the good life in California.
CWOB co-founder Moncho Camblor says of the dogs "It is amazing that these dogs, after seeing all they have seen, being treated the way they were, and facing that fate – they are still willing to give love and begin again"
Dogs will be going up for adoption soon. Please email us at adopt@cwob.org if you are interested in opening your heart and home to one of these amazing animals.
Donate Now to Help Us Care for the China Dogs
Meet the Dogs