CWOB specializes in helping the animals who need the most help and who are the least likely to get that help due to financial or geographic barriers. These three emergency cases taken in to our shelter this past month are no exception.
Papas.
We got word from a partner agency that a dog had been shot and needed emergency care, most likely euthanasia. We said we would do all we could to help. As soon as Papas arrived, we all fell madly in love.
Papas had been shot in the rear leg, shattering his thighbone. He was painful and had clearly been in that condition for several days. We got him pain control, stabilized him, and he then underwent emergency surgery to remove the leg.
Papas recovered in an incredible foster home and is now adopted and doing great!
Terri: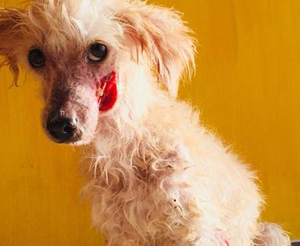 Terri arrived to our clinic in Mexico emaciated and with a severe facial wound. His condition was so critical we set out to arrange transport right away. Several volunteers took on different legs of the journey to get Terri all the way from Sonora, Mexico to Santa Rosa, CA, within just three days.
Terri has been in our care for several weeks and is still in critical shape. His starvation was so severe it is still life threatening, and in addition to the horrendous facial wound he had two different blood parasites that are causing a severe anemia.
This sweet boy is in foster care and each day we are supporting him medically and emotionally and doing all we can to help him pull through.
Zito.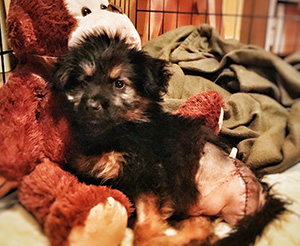 CWOB co-founder Dr. Camblor received a text about a pup in Fresno that needed care right away for a broken leg. Emergency transport was arranged and when Zito arrived we found much more than a broken bone. Sweet Zito's entire leg was wounded, infected, and needed emergency amputation.
The tiny 5 lb., 8 week-old pup was stabilized, started on pain medications and antibiotics, and underwent emergency surgery. Zito is now doing great in foster with Dr. Camblor and family, and is adjusting well to life on three legs. He is an absolutely darling, resilient little spirit and will undoubtedly go on to lead a long, happy life with some lucky adopter.
Help us to save more: Your donation towards our Emergency Rescue Fund is what enables us to be there for these animals when they need us. Please donate today so we can continue to offer these animals the safety nets they need. We are truly their only hope. DONATE NOW.