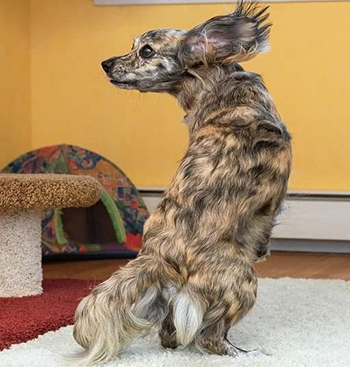 Maizy 'Best in Wiggling': This cute brindle Meximutt came to us in our first Mexico rescue of 2019. She was very shy at first but one of our most dedicated volunteers fell in love with her and took her home.
"I first met Maizy the day she arrived to Muttopia from Mexico, thanks to CWOB rescuing her. She was so painfully shy and timid that it was difficult to even touch or pet her. Thanks to 3 weeks with awesome foster Maizy slowly started to trust and open up. Then, last February, we adopted Maizy, and she has continued to blossom each and every day into an exceptionally loving, affectionate and playful little girl! We are very grateful to CWOB, and very blessed to have sweet Maizy in our lives!"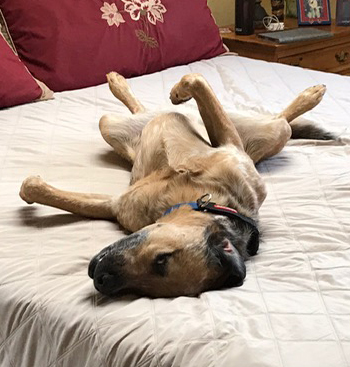 Apache 'Best in Belly Rubs': The sweet guy came to us from our partners in Central California. He had pretty bad injuries after being attacked by coyotes but with some TLC and hard work from our vet staff he recovered wonderfully!
"Apache is loving life since he was rescued by Compassion Without Borders. Love,love, loves agility and nosework (scenting) and is an absolute people magnet. He does Therapy work with Paws As Loving Support where he works with High School and college students and makes each and every one of them feel very special with his joy when meeting them."
Compassion Without Borders is dedicated to saving lives on both sides of the border. These two special dogs are perfect examples of the work we do everyday. We strive to provide support where the need is the greatest. Where animals are least likely to be helped due to financial, geographic, and cultural barriers.
Our programs include a dog rescue program from Mexico and the Central Valley, along with free veterinary wellness and spay/neuter clinics in underserved communities on both sides of the border.
Keep in touch with us on facebook and instagram or our with our newsletter. You can help us continue our efforts by donating!