A special thanks to Gina, the darling dog and amazing soul who the clinic was sponsored in honor of by a generous donor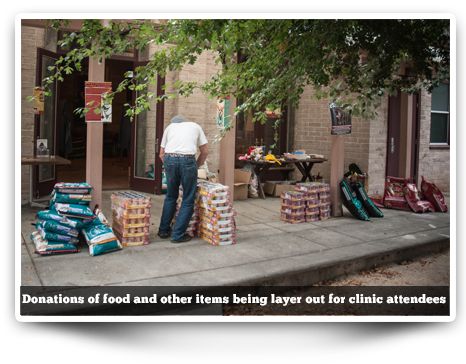 CWOB continues to bring much needed services and veterinary care to animals in need through our outreach and free veterinary care and sterilization services to low-income Latinos in Sonoma.
Our latest clinic, held on July 15th in partnership with Pets Lifeline, proved yet again what a huge need there are for these services. People started lining up an hour before the clinic opened at 8:00 a.m. to guarantee a spot for their animals. Dozens upon dozens of people and their animals crowded the registration desk eager to have access to the free, bilingual services.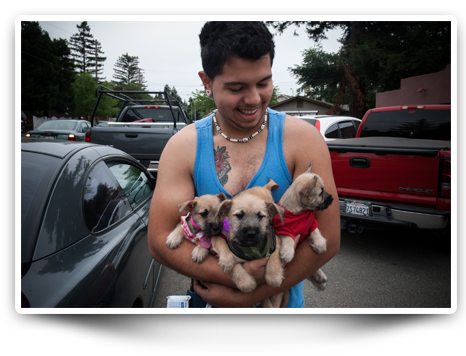 The clinic, staffed by volunteers determined to make a difference, provided veterinary examinations, vaccinations, heartworm and viral testing, along with flea and tick control and collars and ID tags to over 70 animals. An additional 20 received these same services along with free spay and neuter surgeries on a mobile surgical unit parked outside the old church where the event was hosted. Donations of food, treats, toys, leashes, collars and ID tags were also handed out to all the participants.
One such animal helped by the clinic is Chispa, a darling 7 year old Chihuahua who was first treated by Compassion without Borders cofounder Dr.Camblor a little over a month ago. Chispa was brought in for possible euthanasia after she suddenly came up paralyzed on her hind limbs. Chispa's owner, an elderly Mexican woman who spoke only Spanish, was recently layed off and unable to afford even an examination at a regular veterinary clinic. She had reluctantly brought Chispa in for euthanasia, since she felt there was no hope with her lack of resources.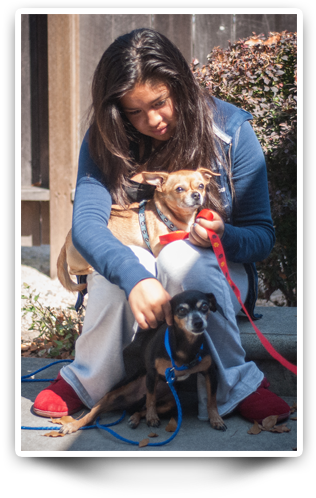 Dr.Camblor spoke with the woman and offered to help with some pain control and anti-inflammatories along with physical rehabilitation exercises the woman could practice at home. There were no guarantees that Chispa would walk again, but it was worth a try if it could save Chispa's life.
One month later, Chispa is now walking again. She is still a bit unsteady in her rear legs, but is expected to make a full recovery. At this most recent clinic, she delighted us all with her progress and also received her annual vaccinations and some flea and tick control and will check in monthly until she is full recovered.
Another animal that arrived to the clinic in urgent need of care was Jerry, an 8 month old Chihuahua cross that had been ill for over a week with vomiting and diarrhea. He was immediately triaged and diagnosed with Parvo virus, a deadly, highly contagious disease affected unvaccinated dogs.
Jerry was given fluid therapy, antibiotics, medication to help with vomiting and other supportive care, but by the end of the day had continued to deteriorate to the point where it was clear he was too ill to be saved and he had to be humanely euthanized.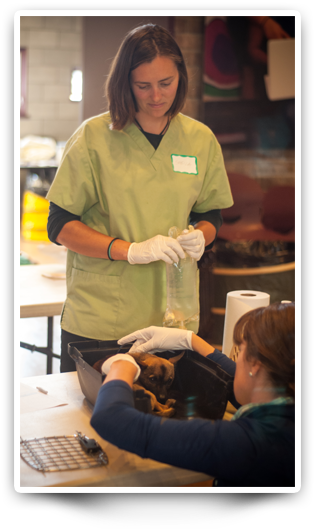 Jerry is a tragic example of the importance of our work. One of our vaccines would have saved his life. We educated the family that brought him in and will keep his memory at the forefront of our minds as an urgent reminder of how desperately our services are needed and how important they are in the lives of these at-risk animals.
Our next clinic is scheduled for August 25th in Santa Rosa, California, followed by an additional event in Sonoma on September 9th. Requests for our services are starting to pour in from groups all over California who recognize the need to reach this demographic. Funding is our limiting resource, please donate today to help us to prevent the needless death of animals like Jerry who can be saved with a simple vaccination.
---
How You Can Help:

•Donate: The clinics are staffed by volunteer labor, but medical supplies do add up. A financial donation today will enable us to reach even more animals in need
•Volunteer: We need volunteers for these clinics to help. Veterinary experience is useful, but not necessary for all volunteer positions. Bilingual folks to help with check-in and discharge are needed.
•Collect donations: We hand out donations of collars, leashes, dog toys, beds, and food at these clinics. Help us to collect these items {new or gently used} or donate a gift card for a pet store so we can purchase ourselves
•Help us flyer: If you live in Sonoma or Santa Rosa and want to help us put out flyers for the event in target Latino neighborhoods, we'd sure appreciate it! Contact us if you can help