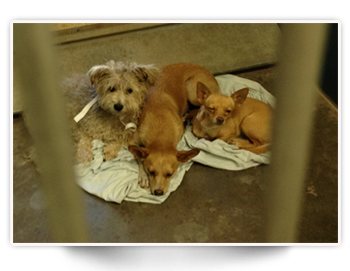 Over the past 5 years Chihuahuas have begun filling up California shelters in record breaking numbers, representing up to 50-60% of all dogs in some shelters throughout the state and replacing Pitbulls as the most common breed of homeless dogs.
The popularity of the Chihuahua can be chalked up to numerous factors – celebrities with "pocket Chihuahuas" such as Paris Hilton , blockbuster films such as Beverly Hills Chihuahua and Legally Blonde with her Chihuahua sidekick. Taco Bell ran a famous Chihuahua ad campaign that helped to launch the breed into the mainstream.  It may be there is also a cultural component with the breed being popular amongst Latinos, which represent a rapidly growing segment of the California demographic.
Whatever the reason, it is having tragic results and sadly, thousands of Chihuahuas are killed each year in California shelters due to the "oversupply".
However, Chihuahuas are not nearly as common in many states, where a demand for these little dogs still exists. Such is the case in Minneapolis where the Animal Humane Society reports they have room for these small dogs and a clientele looking to adopt them.
California has way too may Chihuahuas, Minneapolis doesn't have enough… enter our lifesaving partnership to save these lives!
CWOB has been partnering with the Animal Humane Society in Minneapolis to airlift 40 Chihuahuas every six weeks to their facility from overcrowded shelters in California for the past three years. CWOB selects the Chihuahuas, vet checks and behavior tests them, and then sends them to Minneapolis via Delta cargo.
We have saved over 1,500 lives in the past three years through this innovative program!
CWOB is also working on the preventative end of the crisis by providing access to free and low-cost spay/neuter to Chihuahuas – read more here